Round 1: Putting Costco To The Test
Quite a few of us here in the US, including yours truly, shop at Costco for the wonderful values they offer. We look beyond the long lines, the lack of shopping bags, and the lack of selection. We supersize as we pursue hardcore savings.
After years of comparison shopping many of us have developed "blind faith" in Costco – just assuming the company had the most competitive prices for any product they carried. Why even check? It's a great "brand emotion" – because it leads to a higher proclivity for spontaneous purchases.
Recently though, a nagging question has been rattling around in my head – is it actually true? Does Costco always have the best price (and perhaps the best value).
So I did some digging and took Costco to the test on a few different goods categories – electronics, durable goods, and baked goods. Here's what I found.
Electronics – Olympus SP-700 6MP Digital Camera
Costco (Foster City, CA Warehouse) – $299.99 with $40.00 Instant Manufacturers Rebate. Curiously, few new units seem available at electronics stores, including Amazon, etc. So Costco's deal appears to be a liquidation event for Olympus. Best comparison I initially found is to a reconditioned unit available on CompuDirect for $233.90. The savings over Costco, not counting the > 8% sales tax you avoid by going online (or the shipping fee) is $27. But for a new unit that difference seems worth it. So Costco is skating close to the edge on this one, but I can't prove they are higher priced than others.. But wait! 1 Reader comment suggests doing a froogle search, from which a juicy newegg.com $229.99 price is available. But look carefully – the newegg unit is "recertified" – yet another reconditioned unit. So decide for yourself whether Costco is the lowest price on this one. With their $40 instant rebate I think they are.
Durable Goods – Whirlpool Duet Washer
3.8 cu ft. White on White GHW9150PW
Note: White on White in store, Grey on White Costco.com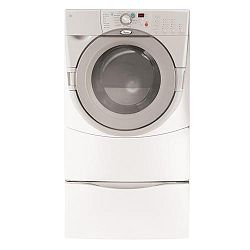 Costco – $899.99. The next best price I could find was Sears, whose online pricing is definitely higher at $999.98 for the same unit (GHW9160PW). Some shoppers may still prefer Sears due to installation, warranty, and ongoing maintenance options, but Costco wins on price for sure.
Note: Same reader as above suggests another froogle search, from which it seems bybb.com has Costco beat at $801. Only problem is shipping to 94019 is $263. fotoconnection.com offers it for $803 but again shipping is $150. So Costco is still the winner here imho. It is close though since most online buys avoid CA sales tax.
Baked Goods – Milton's Multigrain Bread
Costco sells a 2-pack of 40oz loaves for $6.79. That's $1.358 per pound of bread, or 14.8 cents a slice. And boy did that turn out to be a good value! Safeway, in the 94065 zip code, sells a 24oz loaf for $3.99. That's a whopping $2.66 a pound, or 24.9 cents a slice.
Round 1 Conclusion
Costco did pretty well. Those of us who just assume Costco costs less have some basis for that belief. Due to a reader's alert on the camera, it's arguable whether Costco scores a solid 2 for 3 or a perfect 3 for 3. But I suspect Costco is beatable. So I'll be back in future Rounds – looking for chinks in their Procurement armor!
8 Responses